Includes Three Delicious Recipes
East African Pilau with Kachumbari
Pilau can be found in most parts of Eastern Africa, including Kenya and Tanzania. It is a one-pot rice meal cooked with spices and meat, and it is a popular dish for special occasions like public holidays, weddings and parties. Unlike its Indian counterpart of Biryani Rice, Pilau is less spicy, but still full of flavor!
Nyama / Githeri with Ugali and Sukuma Wiki
Nyama means "meat" while ugali means "mush" in Swahili. Ugali is the most common Kenyan staple and is served with everyday meals alongside vegetables and meat stew. It is made from white cornmeal that is cooked with boiling water until it reaches a dense texture. A classic Kenyan beef stew / vegetarian stew accompanied with ugali and Sukuma wiki is the ultimate comfort food in Kenyan households!
Kuku Paka with Rice
This is a popular Kenyan coastal dish that is a great representation of the country's many cultural influences – from local African to European and Indian. Kuku is Swahili for "chicken" while Paka is Bengali for "delicious" – in short "delicious chicken!" It requires grilling of marinated meat before braising it in a spiced coconut sauce.
Each Explorer Box Includes
Recipe Cards
(4 servings each)
3 popular dishes from each country with easy-to-follow instructions for chefs ages 5 and up
Sourced Non-Perishable Ingredients
unique seasonings that will transform fresh ingredients into a cultural culinary experience
Explorer Brochures
exploration guide designed by educational experts that teaches your budding chef about culture, history, and food traditions of your chosen destination
Educational Activity Sheets
make learning fun with interactive word puzzles, math problems, and thematic quizzes
Fun Cooking Tools
start your collection of fun cooking tool(s) for your budding chef that will come in handy for all of your culinary explorations
Collectibles
remember the destinations you've visited on your culinary adventures with our eat2explore passport with country stickers and country flag pins from around the world
Shopping List
take control over your meals by choosing fresh, local ingredients that satisfy your family's dietary preferences and/or restrictions
Our Subscription Box
Not sure where to start? Join eat2explore and you'll receive our featured country every month - complete with essential spices and sauces, recipe cards, collectibles and more.
No long-term commitment, cancel anytime.
Join Now
"This was a wonderful experience for myself and my kids. They loved being able to prepare a meal for our family and learning about the origin of the meal while it cooked."
Hear It From Our Customers
Customer Reviews
Write a Review
Ask a Question
Filter Reviews:
dinners
ones
surprise
salad
place
movie
Kenya
value
kits
meals
01/13/2022
Lisa D.

United States
I recommend this product
Yum! So much fun.
Doing the explore Kenya kit was so much fun. We got the whole family involved and everyone had a job to do. The food was delicious and we paired it with a movie that took place in Kenya while we enjoyed the food. The food was mild and appealed to everyone, but the little ones did not like the raw onions in the salad. No surprise there. The value is definitely there for the kit, the shopping list was easy. We tried two full meals on the same night thinking the kids would hate at least one of them, but they loved them both. I want to buy more kits and keep exploring as soon as possible. I also want to make these exact same dinners again. YUM!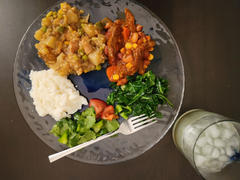 08/15/2021
Mary P.

US
FUN
It was super fun. It was kind of nice that some of the ingredients were there.
06/29/2021
Jacki E.

US
I never knew I liked
I never knew I liked kale!!! The coconut milk sauce was delicious. My grandson and I had a great time following the easy directions. I've been on a safari so we had long discussions about my trip- Kenya!
Come Together Over
Country, Culture, & Cuisine
eat2explore Has Been Featured In:
Frequently Asked Questions
What explore box packages do you offer?
There are 3 ways to participate: (1) explore a country (1 or 3 countries), (2) explore a continent (4 countries), or (3) explore the world (12 countries). With every package, you will receive a new country box each month. With one country box, you can try us without any obligations. The longer your package, the greater the discount!
What items are in each explore box?
Every month you will receive a new explore box complete with: 3 easy-to-follow recipes, our pre-measured spice/sauce mixes for each recipe, shopping list, explore country brochure, activity sheet, country sticker, flag pin and a fun collectible.
What is the recommended age for eat2explore explore box?
The recommended age for our explore box is 5 years old or older.
Do you accommodate food allergies?
Our ingredients are handled in facilities that process milk, eggs, fish, crustacean shellfish, tree nuts, peanuts, wheat, soy, gluten, and sulfites. We recommend you use your best judgment when considering dietary restrictions, but you can easily modify recipes by omitting ingredients you'd like to avoid.
To help you make as informed a decision as possible, all of our sauces or spice mixes include a breakdown of ingredients and any of the eight major allergens as recognized by the FDA are clearly identified.
What countries are currently available?
The countries change periodically. Some of the countries included are: France, Spain, Italy, Greece, USA, China, Japan, India, Mexico, Singapore, Israel, Morocco, Lebanon, Ethiopia and Brazil.