Includes Six Delicious Recipes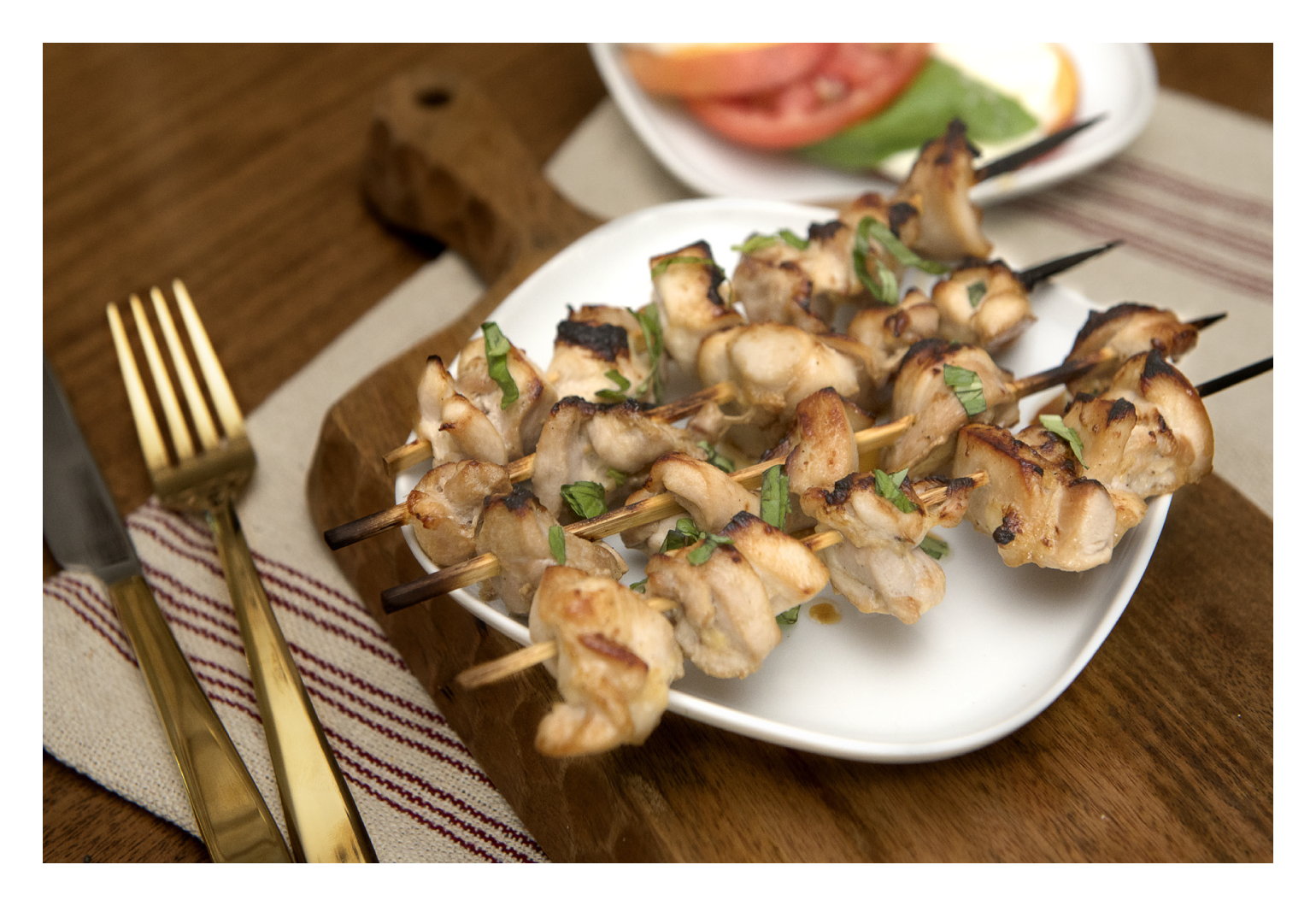 Honey Soy Chicken Skewers with Caprese Salad
Skewers are delicious either broiled in the oven or grilled – either way rewards you with a quick and tasty summer dinner on the table in under 30 minutes. Our chicken thighs are perfectly tender and are bursting with the flavor of sweet honey and savory soy sauce – a winning combination (for a kick, add crushed red chili flakes or Sriracha to the marinade). Sweet and juicy nectarines round out a fresh Caprese salad, drizzled with balsamic vinaigrette. Kids will have fun creating a colorful pattern with the slices of tomato and nectarine and layering with mozzarella and basil leaves.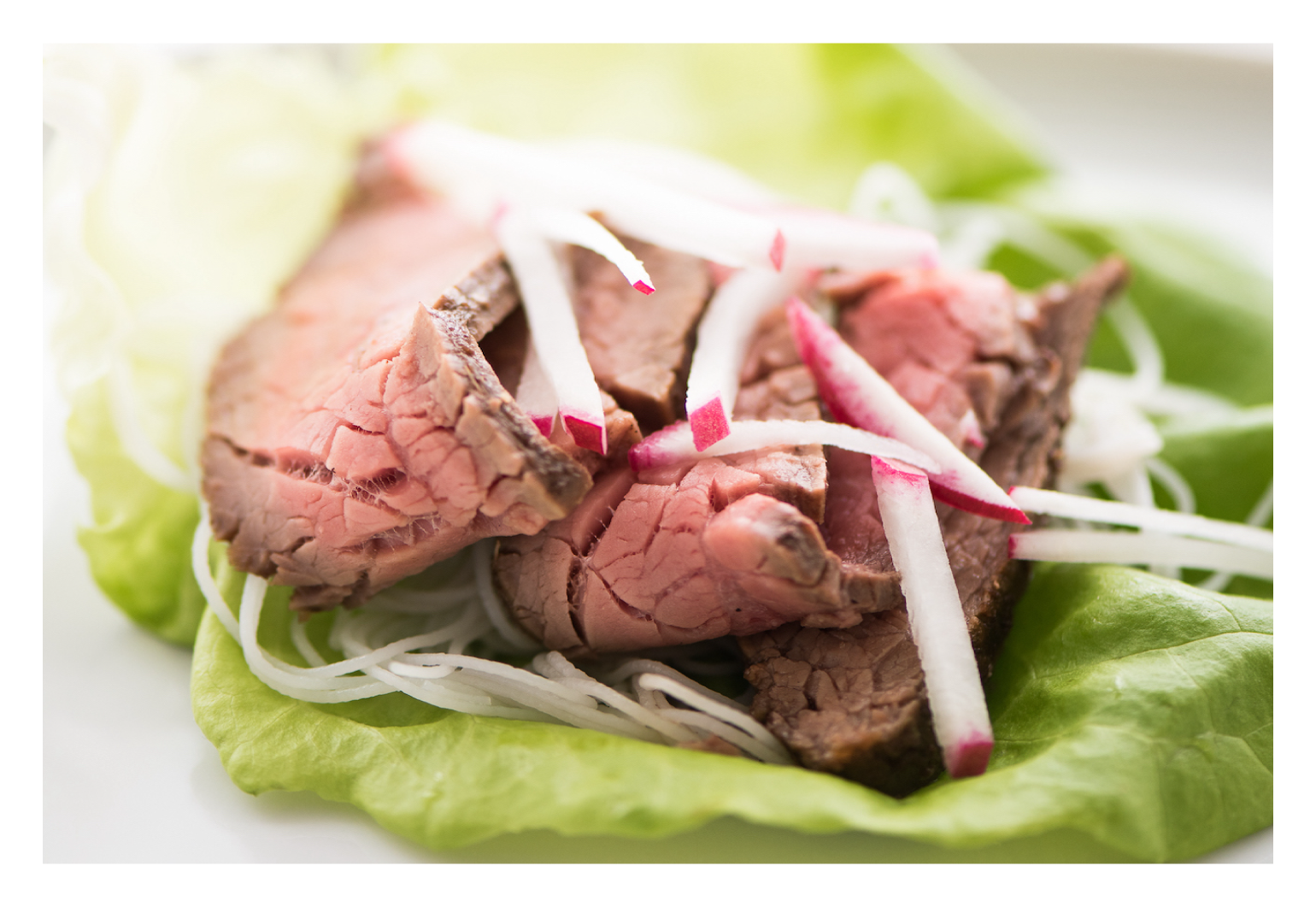 Grilled Asian Steak in Lettuce Wrap
Asian marinades typically contain soy sauce and a sweetener, like honey or mirin (a Japanese sweetened rice wine). This recipe is similar to our South Korean Bulgogi but instead of chicken, we use lean flank / skirt steak instead of fattier cuts. Pan seared or grilled to perfection, thinly sliced, and placed on top of crunchy and fresh lettuce wraps, it is a perfect dish for anytime of the year! Peppery radishes garnish the wraps and a tangle of rice vermicelli / rice provides the perfect vehicle for sopping up any delectable steak sauce. Top with crushed red chili flakes or any combination of fresh herbs for extra flavor (optional).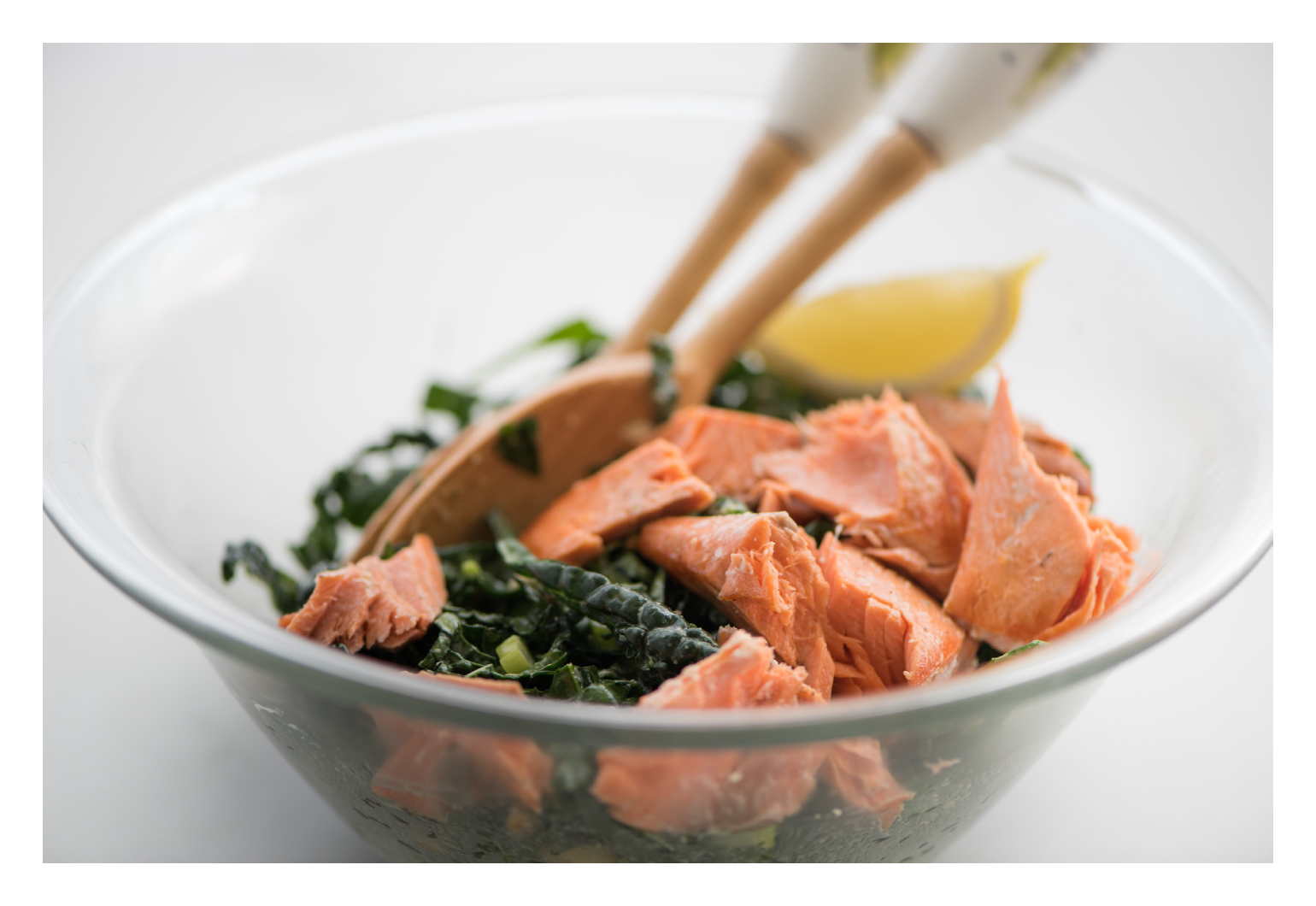 Grilled Salmon with Kale Caesar Salad
Traditionally Caesar salad is made with romaine lettuce, but we shake it up by using hearty and fibrous Tuscan kale for a healthy and filling dinner salad. We shred the kale into ribbons and toss it with a savory Caesar dressing, toasted pine nuts, scallions, and currants. We top it with sautéed/ grilled blackened rubbed salmon, which is rich in omega-3s and powerful antioxidants, and presto! You have a superfood "traditional" Caesar salad. Be sure to massage the kale (a fun activity for kids!) so that the kale tenderizes and absorbs the dressing.
Summer Peach Cobbler
Is there anything more summery than a peach cobbler? Cobblers can be baked or stewed on a stove top, made with dried, canned or fresh fruit - but they are always topped with batter or biscuits! It was the creation of early American settlers from Europe who adapted their traditional pie recipes to local ingredients and harsher living conditions. Settlers moving West didn't have ovens, so they improvised by layering fruit into a Dutch oven, topping it with batter/ biscuits and cooking it over an open fire. Serve our hint of nutmeg peach cobbler with whipped cream or vanilla ice cream (optional, but strongly recommended!).
Chicken Souvlaki
"Souvlaki" is the Greek name for meat grilled on a skewer! This is a Greek version of fast food - chicken breast cubes marinated in a tangy marinade, then skewered and broiled until golden brown.
Greek Baked Fish
Greece is composed of almost 6,000 islands in the Mediterranean, so naturally seafood is central to Greek cuisine! "Bakalarios Me Horta Avgolemono" is a traditional Greek dish with cod fish.  The cod filets are baked with Greek-spiced potatoes, onions, and fennel until meltingly tender. Topped with lemon slices, this light and flavorful dish is as beautiful as it is delicious.
Greek Lamb Burger
Enveloped by a warm pita pocket bread, topped with a Greek yogurt sauce and served with a tomato & cucumber salad, our "lamburgers" will transport you to Greece all year round! Sauté them in a skillet year-round, or grill them in the summer.
Each Explorer Box Includes
Recipe Cards
(4 servings each)
3 popular dishes from each country with easy-to-follow instructions for chefs ages 5 and up
Sourced Non-Perishable Ingredients
unique seasonings that will transform fresh ingredients into a cultural culinary experience
Explorer Guide
explorer guide designed by educational experts that teaches your budding chef about culture, history, and food traditions of your chosen destination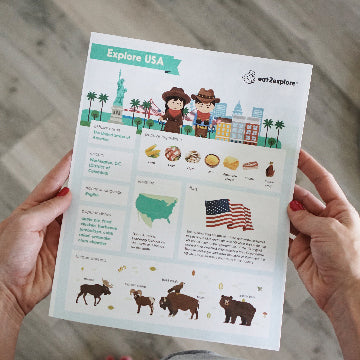 Educational Activity Sheets
make learning fun with interactive word puzzles, math problems, and thematic quizzes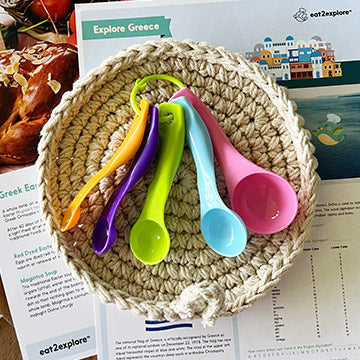 Fun Cooking Tools
start your collection of fun cooking tools for your budding chef that will come in handy for all of your culinary explorations
Collectibles
remember the destinations you've visited on your culinary adventures with our eat2explore passport with country stickers and country flag pins from around the world
Shopping List
take control over your meals by choosing fresh, local ingredients that satisfy your family's dietary preferences and/or restrictions
"This was a wonderful experience for myself and my kids. They loved being able to prepare a meal for our family and learning about the origin of the meal while it cooked."
Hear It From Our Customers
Come Together as a Family Over Country, Culture, & Cuisine
eat2explore Has Been Featured In:
Frequently Asked Questions