Includes Three Delicious Recipes
Pasta with Peas and Pecorino
Introducing Eleven Madison Park and chef/owner DANIEL HUMM. Chef Daniel Humm has led the Eleven Madison Park team in receiving numerous accolades including four stars from The New York Times, James Beard Foundation Awards including Outstanding Chef and Outstanding Restaurant in America, three Michelin stars and the #1 spot on the World's 50 Best Restaurants list in 2017.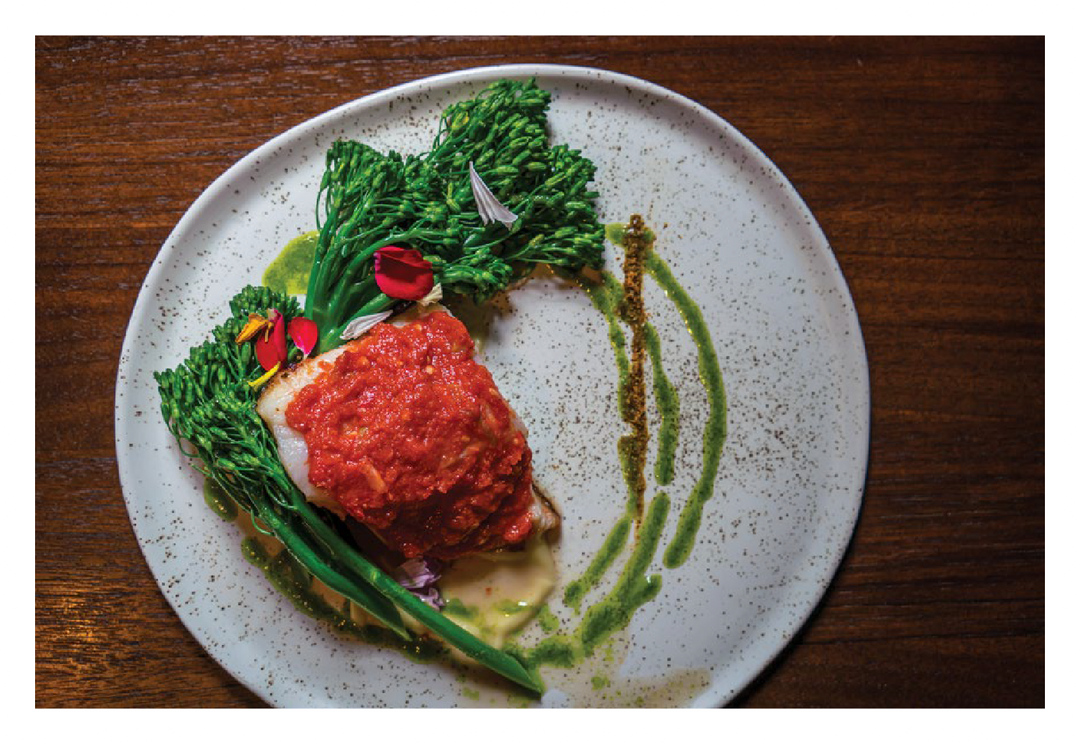 Fish Bilindango with Broccolini
Introducing CÉDRIC VONGERICHTEN, executive chef and co-owner, of Wayan. Recently named one of Esquire's 2019 Best Restaurants in America, Wayan is a modern Indonesian restaurant with French influence in downtown Manhattan. Originally born in Bangkok, Thailand, Cédric spent the early years of his career learning in many celebrated kitchens around the world under the guidance of his father, Jean-Georges Vongerichten, before making his way back to New York. Beyond owning and operating Wayan alongside his wife Ochi, Cédric is the chef de cuisine at the renowned Perry St. in Manhattan's West Village and the executive chef/co-owner of Vong Kitchen and Le Burger in Ochi's birthplace of Jakarta, Indonesia.
Fruity Tiramisu
Introducing NATASHA PICKOWICZ, the former executive pastry chef of NYC's Altro Paradiso and Flora Bar. A San Diego native, Pickowicz began her pastry career in Montreal where she worked at a local bakery, Depanneur Le Pick Up, followed by Lawrence Restaurant. Natasha moved to New York in 2013 to work at Andrew Tarlow's Marlow & Sons and Diner, before joining Matter House in 2014 to oversee the pastry offerings. Most recently, Pickowicz was named as a nominee of the James Beard Award "Outstanding Pastry Chef" and founded the annual Bake Sale at Altro Paradiso, which brings together friends in the restaurant industry to raise money for the Greater New York chapter of Planned Parenthood.
Each Explorer Box Includes
Recipe Cards
(4 servings each)
3 popular dishes from each country with easy-to-follow instructions for chefs ages 5 and up
Sourced Non-Perishable Ingredients
unique seasonings that will transform fresh ingredients into a cultural culinary experience
Explorer Guide
explorer guide designed by educational experts that teaches your budding chef about culture, history, and food traditions of your chosen destination
Educational Activity Sheets
make learning fun with interactive word puzzles, math problems, and thematic quizzes
Fun Cooking Tools
start your collection of fun cooking tools for your budding chef that will come in handy for all of your culinary explorations
Collectibles
remember the destinations you've visited on your culinary adventures with our eat2explore passport with country stickers and country flag pins from around the world
Shopping List
take control over your meals by choosing fresh, local ingredients that satisfy your family's dietary preferences and/or restrictions
Our Subscription Box
Not sure where to start? Join eat2explore and you'll receive our featured country every month - complete with essential spices and sauces, recipe cards, collectibles and more.
No long-term commitment, cancel anytime.
Join Now
"This was a wonderful experience for myself and my kids. They loved being able to prepare a meal for our family and learning about the origin of the meal while it cooked."
Hear It From Our Customers
Come Together Over
Country, Culture, & Cuisine
eat2explore Has Been Featured In:
Frequently Asked Questions
What explore box packages do you offer?
Subscribe to our Featured Country or pick and choose from our selection of individual boxes and bundles. With every Featured Country subscription package, you will receive a new country box each month. With our individual country boxes or continent bundles, you can try us without any obligations. The longer your subscription package or the more individual boxes you order, the greater the discount!
What items are in each explore box?
Every month you will receive a new explore box complete with: 3 easy-to-follow recipes, our pre-measured spice/sauce mixes for each recipe, shopping list, explore country brochure, activity sheet, country sticker, flag pin and a fun collectible.
What is the recommended age for eat2explore explore box?
The recommended age for our explore box is 5 years old or older.
Do you accommodate food allergies?
Our ingredients are handled in facilities that process milk, eggs, fish, crustacean shellfish, tree nuts, peanuts, wheat, soy, gluten, and sulfites. We recommend you use your best judgment when considering dietary restrictions, but you can easily modify recipes by omitting ingredients you'd like to avoid.
To help you make as informed a decision as possible, all of our sauces or spice mixes include a breakdown of ingredients and any of the eight major allergens as recognized by the FDA are clearly identified.
What countries are currently available?
The countries change periodically. Some of the countries included are: France, Spain, Italy, Greece, USA, China, Japan, India, Mexico, Singapore, Israel, Morocco, Lebanon, Ethiopia and Brazil.